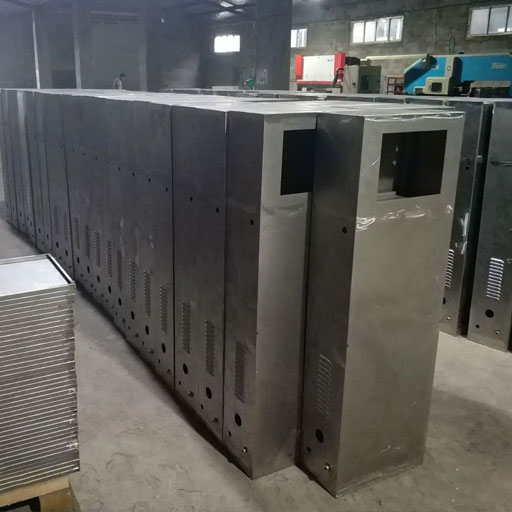 Sheet Metal Cabinet
---
Industrial control cabinets is generally used in harsh environments. A lot of noise and dust. The motherboard part of the machine is divided into two parts, the bottom plate + cpu card form. The advantages of industrial control cabinets are extrusion resistance, corrosion resistance, dust resistance, vibration resistance, and radiation resistance. Mainly used in harsh environments. For example: navigation, power plants, chemicals, mining plants, underground operations, etc. The industrial control chassis is generally used in the army, radio stations, and television stations. Its advantages are favorable for heat dissipation, good scalability and good stability.Pintejin is contracted to manufacture Sheet Metal Cabinets for IPC project and industrial application. We have more than 17 years of diverse experience in Sheet Metal Cabinets custom fabrication. Our engineers can work with your specific requirements to deliver the perfect IPC Cabinets for your needs, no matter the size, shape or where it's located.
The Case & Products Of Sheet Metal Cabinet
---
Currently, our non-standard sheet metal cabinet are exported to America, Canada, Australia, United Kingdom, Germany, France, Sout Africa, and many other countries all over the world. We are ISO9001-2015 registered and also certified by SGS.
Our custom sheet metal cabinet service provides durable and affordable parts that meet your specifications for automotive, medical, aerospace, electronics, food, construction, security, marine, and more industries. Fast to send your inquiry or submit your drawings to get a free quote in the shortest time.Contact us or Email [email protected] to see how our people, equipment and tooling can bring the best quality for the best price for your custom sheet metal cabinet project.
Iron Sheet Metal Cabinet With Oil Spray

Sheet Metal Fabrication Supermarket Cashier Cabinet

Touch Screen Self-Service Terminal / Advertising Machine Shell

Complex Precision Sheet Metal Fabrication IPC Cabinet

Aluminum Sheet Metal Fabrication Control Cabinet

Sheet Metal Fabrication 1500*500*850 mm Machinery Cabinet

Optical Maser Sheet Metal Fabrication 850*650(mm)Machinery Cover

Cold-Rolled Sheet Metal Fabrication 300*400*200(mm)Machinery Housing

Cold-Rolled Sheet Metal Fabrication Machinery Machine Enclosure